Product Summary
The CC2500RTKR is a low-cost true single chip 2.4 GHz transceiver designed for very low-power wireless applications. The circuit is intended for the 2400-2483.5 MHz ISM (Industrial, Scientific and Medical) and SRD (Short Range Device) frequency band. The RF transceiver is integrated with a highly configurable baseband modem. The modem supports various modulation formats and has a configurable data rate up to 500 kBaud. The CC2500RTKR provides extensive hardware support for packet handling, data buffering, burst transmissions, clear channel assessment, link quality indication, and wake-on-radio. The applications of the CC2500RTKR include: 2400-2483.5 MHz ISM/SRD band systems, Consumer Electronics, Wireless game controllers, Wireless audio, Wireless keyboard and mouse.
Parametrics
CC2500RTKR absolute maximum ratings: (1)Supply voltage: –0.3 to 3.6V; (2)Voltage on any digital pin: –0.3 to VDD+0.3,max 3.6V; (3)Voltage on the pins RF_P, RF_N and DCOUPL: –0.3 to 2.0V; (4)Voltage ramp-up rate: the max value is 120kV/μs; (5)Input RF level: +10dBm; (6)Storage temperature range: –50 to 150℃; (7)Solder reflow temperature: 260℃; (8)ESD: <500V.
Features
CC2500RTKR features: (1)High sensitivity (–104 dBm at 2.4 kBaud,1% packet error rate); (2)Programmable output power up to +1 dBm; (3)Programmable data rate from 1.2 to 500 kBaud; (4)Frequency range: 2400 – 2483.5 MHz; (5)OOK, 2-FSK, GFSK, and MSK supported; (6)Integrated analog temperature sensor Digital Features; (7)Efficient SPI interface: All registers can be programmed with one burst transfer; (8)Digital RSSI output; (9)Programmable channel filter bandwidth; (10)Programmable Carrier Sense (CS) indicator.
Diagrams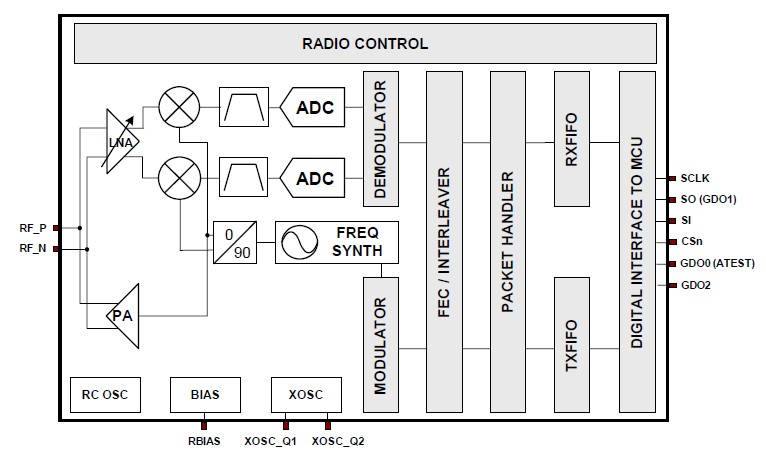 Image
Part No
Mfg
Description
Pricing
(USD)
Quantity

CC2500RTKR

Texas Instruments

RF Transceiver CC2500 TAPE AND REEL

Data Sheet



| | |
| --- | --- |
| 0-1: | $2.32 |
| 1-25: | $1.87 |
| 25-100: | $1.70 |
| 100-250: | $1.54 |


CC2500RTKRG3

Texas Instruments

RF Transceiver Lo Cost Low-Power 2.4 GHz RF Xceiver

Data Sheet



| | |
| --- | --- |
| 0-2340: | $1.08 |
| 2340-3000: | $1.06 |
| 3000-6000: | $1.05 |