Product Summary
The LA7837 is a vertical deflection output IC developed for use in high-grade TVs and displays. The interlace and crossover distortion responses, in particular, have been greatly improved, allowing excellent picture quality on large size televisions and high precision interlace mode displays. The LA7837 has maximum deflection current of 1.8Ap-p, making it appropriate for use in portable to mid-size televisions.
Parametrics
LA7837 absolute maximum ratings: (1)Driver supply voltage: 15V; (2)Pump-up supply voltage: 30V; (3)Output supply voltage: 62V; (4)Deflection output current: -1.5 to +1.5Ap-o; (5)Thermal resistance: 4℃/W; (6)Allowable power dissipation: 8W; (7)Operating temperature: -20 to +85℃; (8)Storage temperature: -40 to +150℃.
Features
LA7837 features: (1)Low power dissipation due to on-chip pump-up circuit; (2)On-chip 50/60Hz vertical size control circuit; (3)On-chip sawtooth wave generating circuit; (4)On-chip drive circuit; (5)Vertical output circuit; (6)On-chip thermal protection circuit; (7)Excellent interlace response; (8)Excellent crossover response.
Diagrams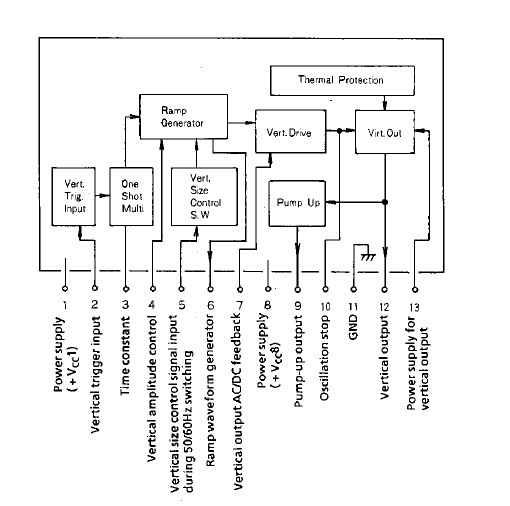 Image
Part No
Mfg
Description
Pricing
(USD)
Quantity

LA7837

Other



Data Sheet

Negotiable
Image
Part No
Mfg
Description
Pricing
(USD)
Quantity

LA78040

Other



Data Sheet

Negotiable

LA78040B

Other



Data Sheet

Negotiable

LA78040B-E

ON Semiconductor

Multimedia Misc

Data Sheet



| | |
| --- | --- |
| 0-1: | $1.21 |
| 1-25: | $1.08 |
| 25-100: | $0.97 |
| 100-250: | $0.86 |


LA78040N

Other



Data Sheet

Negotiable

LA78041

Other



Data Sheet

Negotiable

LA78045

Other



Data Sheet

Negotiable